Sporty, Economical and built like a king-size watch
Source:
Two Wheels N° 5, 1969
Author:
Christopher
We took the German-made Kreidler Florett for some pretty testing runs.
The little 50cc machine surprised us more than somewhat.
The Kreidler is a motorcycle of many parts – not the least of which is its anti-theft steering lock. We know. Someone who prefers to remain nameless lost the keys to the blasted thing! We tried all the favorite tricks of the people on TV – bent bobby pins, pieces of flexible plastic. Nothing worked. A desperate call to Karl Reller, agent for Kreidler in New South Wales brought him out one Sunday morning to sort out the mess.
He brought enough tools to dismantle a battleship – but not enough to take a Kreidler steering lock apart.
Karl called a locksmith friend who came with all sorts of fascinating lock-picking instruments. Two hours later he had the lock undone. Assuming a thief is at least as experienced as a good locksmith, who on earth wants to spend two hours stealing one motorcycle even if the police were elsewhere? A good thing, this lock. The Kreidler has magneto ignition with no ignition lock, so anyone with the knowhow and minimum of muscle can start the cycle. About the keys. Karl was quite nice really – though when we borrowed the machine for some photography, he forgot to give them to us.
A typical German touch is the tool locker.
It uses the same key as the steering lock.
From the rear the sturdy construction is apparent.
The wee beastie concerned in the above drama is a Kreidler Florett RS (Never heard of it? Then you didn't read the last issue of TWO WHEELS very carefully) of 50cc capacity. A sports machine, it develops 5.2 bhp from that tiny cylinder on 11:1 compression, weighs 172 lb and costs $ 379. It also has a 5-speed gearbox and needs every one of them.
Frankly, even with its advanced specifications and its records (more anon) at $ 379 it is not about to push the Japanese small fry off the market (you can breathe again, fellas). It is intended for the ultra sporting rider (the sort who would buy a Bultaco or a Montesa in the bigger class) who maybe wants to go racing on weekends. To this end the distributors intend to market an over-the-counter racing kit. This raises the output to about 10 bhp and will cost in the vicinity of $ 90. The latest record breaker puts out 14 bhp at 14.000 rpm – 280 bhp/litre. (By way of comparison, a Norton Atlas to achieve the same specific output would have to develop 210 bhp!) If you require the most performance from the least number of ccs, the Kreidler is ideal.
The tiny 50cc-powered Kreidler streamliner during its 130 mph run.
Nine feet long, the machine only weighed 220 lbs.
When we first saw the machine, because of all the deep finning and the size of the motor, we thought it was a 125cc cycle. It would be a tremendous bike if it were. On the European market with its weird and wonderful ways of taxing motorcycles, the 50cc is the most economical. It is a high performance 50 which would be bought by a lot of people. But for the export market a 125cc version would make a lot of sense and friends.
For regardless of the basic performance of the cycle, 50cc is still 50ccs, as any steep hill will prove. The tiny engine simply hasn't the torque. With the relatively vaster distances people must travel in this country, a sporting machine with a top speed of 56 mph (almost 10 mph under the Legal limit) seems rather pointless. A town cycle with magneto ignition and a high first gear seems equally odd. Perhaps it is designed for the man who never visits the city and never strays outside the suburban areas. It will perform both sporting and city runabout well but it is certainly not really at home in the city at all.
Getting back to the engine. It is a single, horizontal cylinder, two stroke of 40 mm bore, 39.5 mm stroke. The thus just-oversquare engine develops 6.5 bhp at 7600 rpm. The horizontal placement of the engine ensures the head is directly in the airstream for maximum cooling. Further, the centre of gravity is kept low, a factor that contributes to the Kreidler's fine handling.
Overall view of the Kreidler shows clean, uncluttered lines.
Performs very well for a machine of only 50 ccs.
The frame is pressed steel and handsomely finished in bright red. The finish of the cycle is extremely good though the weird two-tone combination of fire-engine red and a color akin to British racing green is hard to get used to. Swinging arms suspend the rear and hydraulic forks the front. Nothing unusual here. Actually there is nothing unusual about the Kreidler except that it works – and works very well. It is a fine example of orthodox refinement.
The machine, still without recourse to the exotica other makes affect, is the holder of six world records for 50cc cycles. One record held is the standing quarter-mile at an average speed of 58.61 mph. For International records, the speed quoted is the average speed (over two runs, one in either direction) of the cycle over the total duration of its run – not the terminal velocity at the end of the quarter. Another and even more impressive record is the flying kilometre at a two-way average speed of fractionally under 132 mph! Even with 14 bhp and a streamlined fairing, that's screaming for 50 ccs.
Front forks are fully enclosed and dustproofed,
a good feature on our dusty goat tracks.
While the road version we tested was not quite in that league, it did perform. Against the clock, performance was a little disappointing. The Kreidler felt a lot faster than it was. But acceleration figures did not reflect how the cycle would cover ground. Point-to-point it was amazingly fast for a 50cc road machine. For the best performance, the engine must be kept on the boil and the gearbox slirred constantly. This was no handicap as the gears were ideally spaced (except that first is too high for fast takeoffs, but once under way is a very usable gear), though lever travel (one down, four up) was a little long and the lever must be lifted forcefully to avoid missing a shift. Neutral was easy to find, unlike on quite a few other bikes.
Slow to accelerate initially, the little beast gathered speed quickly when under way. Even packing double, the Kreidler rider was in no danger of being run over by the bulk of suburban traffic. Once clear of traffic, the Kreidler began to make some sense. It handled well. (What about that 125cc engine, please?) Moving quickly through a series of bends the cycle pointed exactly where it was supposed to and stayed there. The handling potential of the machine (outside of sheer lunacy, that is) was somewhere well above its road performance capabilities. The brakes were good, pulling the cycle down quickly from maximum in a dead straight line every time. The amount of effort needed to do this, however, was quite high.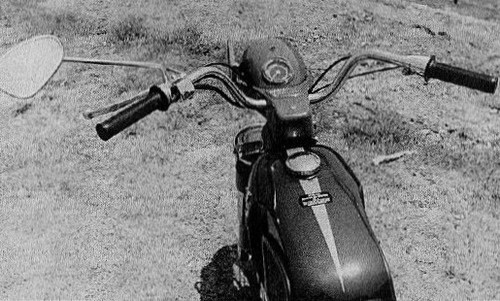 Handlebars are wide and comfortable, although the one mirror is on the wrong side
for Australian conditions. Paint work and general finish are superb.
One of the Kreidler's most pleasant aspects was its easy starting. Invariably a first-kick starter, the engine required only a light push on the lever to crank it into life. It was so easy to start (and no mystique either) that an electric starter, which it did not have, was completely unnecessary. Stall at the lights? Pull the gearlever into neutral, push lightly on the starter lever, select first, move away. We did not even have to get off the seat. Because of this and its light weight, the Kreidler was a pleasure to ride.
Once the machine has fired up it has to be warmed for a few minutes before moving off. If this is not done any sort of a hill has to be climbed zig-zag fashion.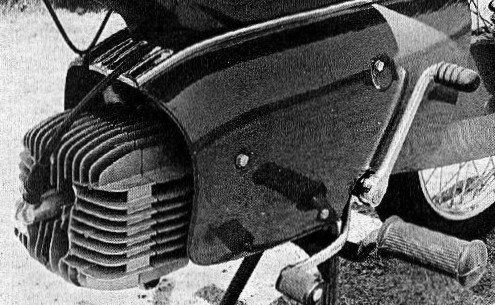 Kreidler engine is model of functional design. Starter lever is fazed, as well as footpeg.
Horizontal engine placement ensures maximum cooling.
As for the rest, the horn (?) was practically undetectable and the lights barely up to the performance. The light switch was rather difficult to use with gloves. The magneto kill button (on the same assembly as the lights) located under the switch was hard to reach but positive in action. The handlebars must be among the best around, upright and comfortable, though the grips could be more "grippable", the ribbing being rather fine.
Kreidler has chosen a very straigthforward design but has developed it to a high degree. If you require fun riding at a minimum cost and low fuel consumption with lots of gears and revs, the Kreidler could just be the answer.
SPECIFICATIONS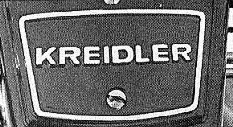 ENGINE:
Action: two-stroke reverse scavenging
Bore and stroke: 40 mm by 39.5 mm
Cubic capacity: 49cc
Compression ration: 11:1
Carburettor: Bing 17 mm
Output: 5.2 bhp at 7500 rpm
Clutch: Multiple-disc
TRANSMISSION:
Gears: five-speed with pedal gear change using roller
Chain: Mofa roller ½ inch by ¾ inch 102 links
CHASSIS:
Frame: pressed steel
Rear suspension: swinging arm with hydraulic shock-absorbers
Fork: long-swing with hydraulic shock-absorbers
Brakes: light alloy solid-hub 116 mm diameter by 20 mm
DIMENSIONS:
Overall length: 6 ft 2 inch
Height at seat: 2 ft 6 inch
Handlebar width: 1 ft 10 inch
Weight in running order: 172 lbs
Permissible total weight: 540 lbs
Fuel tank capacity: 3 gals
ELECTRICAL:
Supply: Bosch flywheel magneto
Output: 6V / 29 plus 5W
Spark plug: thermal rating26-0
PERFORMANCE:
Maximum speeds in gears (mph): 1st:20 ; 2nd:30 ; 3rd:40 ; 4th:50 ; 5th:56
ACCELERATION:
0-20 mph: 3.4 secs
0-30 mph: 6.2 secs
0-40 mph: 9.5 secs
0-50 mph: 23.5 secs
Mileage on test: 121
Test weight: 335 lbs
Fuel consumption overall: 130 mpg
A word of explanation about this article:
Original post made on Kreidler.nl by Christopher from Australia on 24/11/2000
Quote :

Hello Maarten,

I came across your site by accident and it brought back a few memories.
In 1968/1969 I was involved with Two Wheels which was Australia's first motorcycle magazine and I rode the Florett and wrote about it in the fifth issue, while it appeared on the front cover of issue number six.
It made a considerable impression and I very nearly bought it but my weight really suited a 650!
I have attached the material as jpg files to keep the file size down. Oddly enough, I think that somewhere in my files there is an original brochure on the model.
Re-reading the article after thirty-odd years makes me realise that we were pretty naive then. But it was a lot of fun,

Christopher.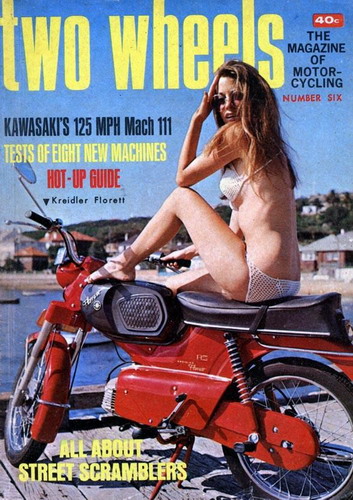 Source:
http://www.kreidler.nl/forum/viewtopic.php?t=10058
Fully rewritten by kaZeta.