Deze heb ik vorige week doorgemaild gekregen, dacht dit ff op het forum te zetten voor de geïnteresseerden.
BRUSSEL'S FREE EVENT - BRUSSEL'S FREE EVENT - BRUSSEL'S FREE EVENT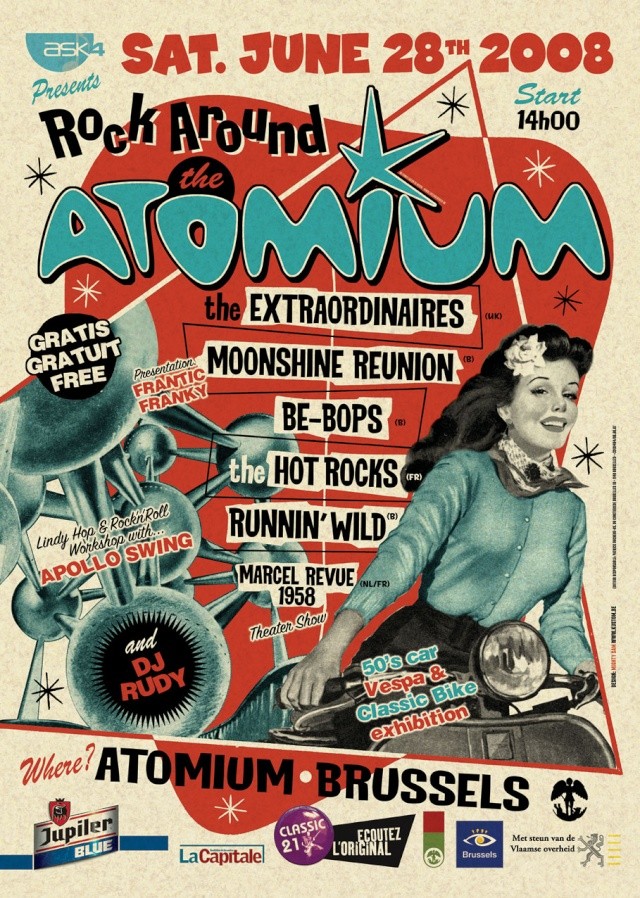 Rock´n´roll will never die ...
Op 28 juni 2008 word er een onvergetelijk sfeer verzekerd door ASK4 and " Rock around the Atomium " op het voorplein van het Atomium.
Een unieke zangstijl, vol vrijheid, ontroering en ritme. Rock' roll klinkt nog steeds fris en verleidt nog altijden altijd alle generaties die door deze mythische & historische muziek worden getroffen.
ASK4 stelt u bij deze het essentiele eventement " de herdenking van het 50 jaar van Expo 58 " voor. Vol typisch fifties muzikale animatie, met rock' roll, swing, Doo-Wop , enz en dit aan de voet van het Atomium zelf.
"Rock around the Atomium" neemt u terug naar de tijd van de Pin ups en de King!
Op het programma, een zeer mooie keure van artiesten die zich reeds bewezen hebben op talrijke festivals. Daarnaast is er de animatie ter plaatse: de aanwezigheid van auto's van de American dream tijd, vespas, een drinkstand, een dj, originele stands en verschillende animaties.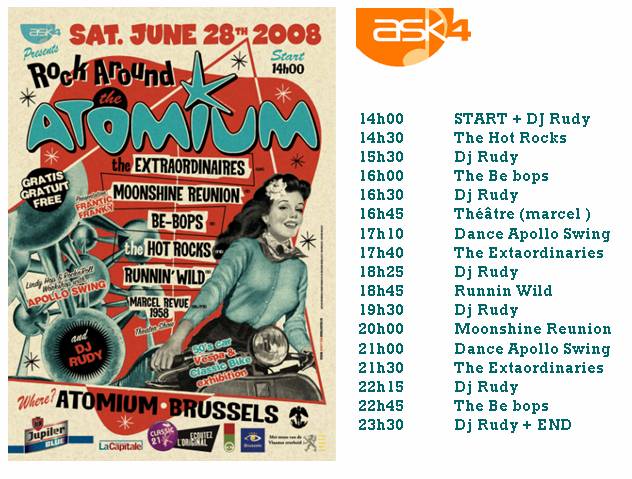 Kleed up op in uw hawaiihemden, pofjurken, perfectos, wegversleten jeansen en uwe brilliantine want "Rock around the Atomium" wordt ontegenzeggelijk het meest aangename en gezellige moment van de festiviteiten rond Expo 58.